Don't let the term Boot Camps scare you!  The majority of my boot campers are in their 40's, 50's and 60's.  Some had never lifted a weight or done a plank…now they are toned and fit. 180 Boot Camps are group fitness training sessions designed to help you get fit, loseweight, gain strength and increase your overall health.  180 Boot Camps are not Military Style boot camps where all I do is yell and scream and make you wish you were dead instead of being in the session!  Instead they are "Mili-Terrie" style…I like to do things my way, so I have created classes based on my 24 years of being a personal fitness trainer, my experience with teaching floor aerobics, step aerobics, cardio kickboxing and core training, as well as, martial arts training.
YES,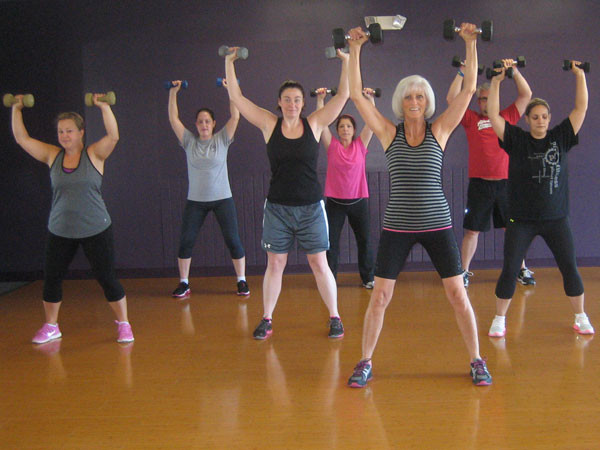 I will push you and may raise my voice out of excitement in order to motivate you. YES, I will get more out of you than you think you are capable of doing (it's funny how that works!)  YES, you will get a good workout and be a bit sore but I do not have to tear you down to build you up. I'd rather have you laugh your way to fitness or as I say, "Laugh your abs off!"
The classes are NEVER the same so you will NEVER be bored.  Each one of the 180 Boot Camps sessions will challenge you and force you to rise to your own occasion!!!  The classes are designed to work and tone your entire body, burn calories and increase your endurance.
WHAT I EXPECT FROM YOU:
NO WHINING OR COMPLAINING!!! (or YOU give ME 25 pushups!)
NO EXCUSES
A sense of humor
100% participation
A positive "I Can Do It" Attitude
Support for the other participants
Be patient with yourself and NO giving up!
NO judging others…this is a 

judge-free zone

Do just beyond the best you can from the level at which you are starting
NEVER tell me or yourself you CAN'T…Don't even THINK that in my presence!!!
WHAT YOU CAN EXPECT FROM ME:
To push you beyond what you think you can do
High energy and enthusiasm for your success
Attention to form and safety
A wide variety of exercises
100% of me every time
Fun and laughter
A great workout
Encouragement
Support
NO WHINING OR COMPLAINING!!! (or I give YOU 25 pushups)
180 BOOT CAMPERS CAN EXPECT TO:
Reduce stress
Boost self-esteem
Have more restful sleep
Increase balance and stability
Increase flexibility and strength
Develop agility and coordination
Learn proper exercise techniques
Lose inches and body fat/tone muscles
Increase cardio and muscular endurance
Have fun, laugh and enjoy a new challenge!
VARIETY OF TRAINING
Tabata
Stretching
Plyometrics
Power Yoga
Circuit training
Core Conditioning
Cardio Kickboxing
Balancing Exercises
Weight Training/TRX/G-Flex
Nutrition tips and Much More
If you are ready to redesign your body, challenge yourself, and "DO A 180" to turn your health around, then step out of your comfort zone and I will help you step into a new and healthier you through 180 Boot Camps.   You have nothing to lose except some sweat and calories!!!