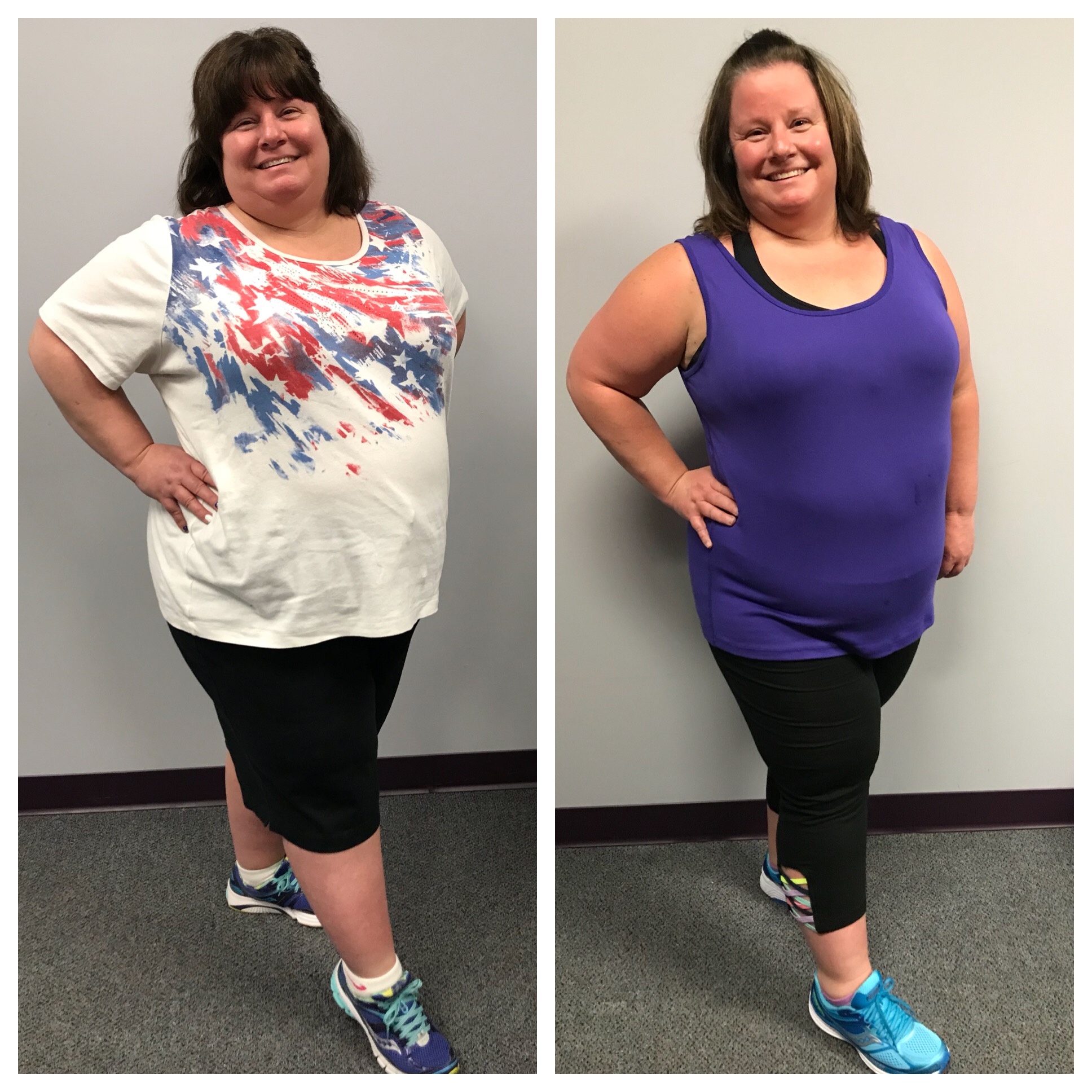 When my friend Louise asked me to check out 180 Fitness, my immediate thought was "I can't do it. I am too overweight and I am petrified of going to a gym". The thought of entering a fitness facility intimidated and overwhelmed me. She was persistent and made a private appointment with Terrie Bulger. When we walked into Terrie's studio, I was timid and shy. Louise and Terrie interacted effortlessly as I sat quiet and listened to the ladies talk. I was nervous and outside my comfort zone.
During the appointment I immediately felt Terrie had a calming way about her. My fear began to go away and I was open to the idea of learning how Terrie could help me. She knew when I walked through her door I was panicked. She explained her experience and her studio and as she spoke, the color came back to my face and I knew I was with someone I could trust.
She asked me "what is your goal for coming to 180 Fitness?"   I told Terrie "I am tired of living with constant knee and body pain."  I told her the weight is limiting me from being healthy and doing everyday tasks without restrictions. I was honest and told her I cannot exercise or diet on my own and I need someone who will help me. Terrie assured me she would guide me to a healthier lifestyle and said she would get me to be a healthier Denise. I signed up for a 12-week private training package with my friend Louise. I didn't have to go home and "think about it."  From that first meeting, I knew Terrie is who I needed to help me.
My journey started February 1, 2018 at my health assessment. I was not afraid to show up because Terrie was so positive at our first meeting. The first session was rough because I had 281 pounds on my body. Every time I got discouraged and down on myself, Terrie encouraged me. She reminded me to keep myself focused on my goal to be healthier. The weeks passed and the pounds were coming off. My knees and body felt less pain, I climbed stairs easier, daily tasks did not exert me, and I could tie my own shoes! For the first time in years, I was proud of myself. Terrie was ticking off the goals we set for me one week at a time. Her passionate encouragement, knowledge, and willingness to dedicate her time to me made it fun to train with her twice a week I actually look forward to going to my personal training sessions. The results I was seeing are only a small portion of how 180 Fitness has made me healthier.
Fitness training with Terrie didn't stop with getting healthier and stronger physically. I entered her fitness studio afraid to try new things. Her group classes were something I thought I could never do. Being in a group setting would take me outside my comfort zone. Terrie said at some point she would have me more confident in myself and I would be able to join some of her classes. She directed me to try Zumba and go at my own pace. She taught me to know my body and modify an exercise if I could not do what the other participants were doing. Her main goal was to make sure I was happy working out and didn't push myself beyond a limit I could not keep up with. She took the time to introduce me to the class and the instructor. I wasn't thrown into a class and left by myself. Terrie made sure I felt confident and comfortable. Her enthusiastic encouragement and support had me gaining confidence in myself and my abilities. Mentally I was learning strength from her. She was the support system I needed to better myself.
I have become a stronger, more confident woman. Walking into 180 Fitness may have been one of the scariest things I have done, but it was the best thing I have done for myself. To know Terrie wanted me to reach a potential that I didn't believe I had is indescribable. She wants me to succeed, to be healthy and see results. She takes the time to teach proper exercise form and technique. She never gives up on me even though I sometimes give up on myself. I eat clean and I love it. I take the stairs when there is an elevator nearby. Every change in my lifestyle is all Terrie and her relentless support of me being a healthier person. I text her often thanking her for how much she has changed my life. She is humble and supportive and answers, "it's you accomplishing these goals". But without the guidance and support I have from Terrie, I know I would not be almost 40 pounds lighter and able to look in the mirror and believe in the person staring back at me. The empowerment I feel within myself is amazing. I would never have thought working out and eating healthy would be this fulfilling, but with the help from Terrie and 180 Fitness, I see clearly this is the place where ALL my goals will be met one week at a time. I have signed up for another 12 weeks of personal training and I have the courage and motivation to continue attending group classes. Thank you Terrie Bulger for making me feel like I am the most important person in the world. The attention and care you show me while training is truly appreciated. Because of you, people see me. I am getting complimented on my new body. But I thank you for keeping your promise. You took away all my body aches and pain. You gave me back control over my body to do everyday tasks without exertion. For that, the aesthetic benefit isn't as important as how healthy you have helped me be.   Thank you – Denise V., Dracut, MA